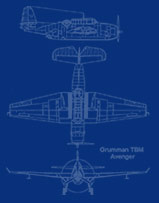 History of the Block Island: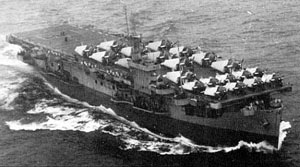 Originally classified AVG-21, she became ACV-21, 20 August 1942, and CVE-21, 15 July 1943.
Departing San Diego in May 1943 Block Island steamed to Norfolk, Va., to join the Atlantic Fleet. After two trips from New York to Belfast, Ireland, during the summer of 1943 with cargoes of Army fighters, she operated as part of a hunter-killer team. During her four anti-submarine cruises Block Island's planes sank two submarines: U-220 in 487º53' N., 33º30' W., 28 October 1943 and U-1059 in 13º10' N., 33º44' W., 19 March 1944.
She shared the credit with Corry (DD-453) and Bronstein (DE-189) for the sinking of U-801 in 16º42' N., 30º20' W., 17 March 1944 and with Buckley (DE-51) for U-66 sunk 6 May 1944 in 17º17' N., 32º29' W. Three of Block Island's escorts, Thomas (DE-102), Bostwick (DE-103), and Bronstein sank U-709 on 1 March 1943 and the same day Bronstein got U- 603.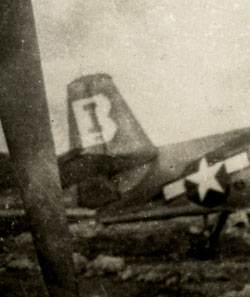 At 2013, 29 May 1944, Block Island was torpedoed by U-549 which had slipped undetected through her screen. The German submarine put one and perhaps two more torpedoes into the stricken carrier before being sunk herself by the avenging Eugene E. Elmore (DE-686) and Ahrens (DE-575) of the screen in 31º13' N., 23º03' W. Block Island received two battle stars for her service.
The Block Island was tasked with destroying German U-boats in the Atlantic. The pilots newly assigned to the ship, the VC-55 squadron, had claimed their first enemy sub a month earlier. The Block Island (CVE 21) operated within a screen of four destroyer escorts, normally launching patrols of four aircraft. Each airplane took a quadrant and carved it into 30-degree slices- out, across, and then back to the carrier. Because the pilots had to observe radio silence at night, they had to find their way back to the moving carrier on dead reckoning -flying a compass heading for a calculated time and hoping to spot the carrier when the time was up. "We would try to work out our navigation beforehand", Moller explains, "So on take off you always hated the flight deck crew holding up a chalkboard that said The Course of the carrier will be so-and-so. Good luck." that meant you had to figure out a whole new set of navigational figures on the go. That wasn't easy in a dark cockpit at night."
On 3/19/44 VC 55 claimed another German sub, the U1059.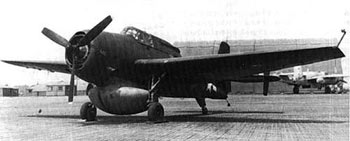 But on May 29, near the Canary Island the Block Island's prey turned hunter. As dusk fell, the U549 slipped through the destroyer escort screen and launched three torpedoes into the carrier. (Editors note: Actually launched two at first that struck the Block Island, then the third that struck the DE USS Barr ripping the after portion of the ship completely off then the fourth that finished off the carrier) Moller dashed topside with a group of pilots from his squadron's ready room. Standing precariously on the listing deck, Moller soon heard the inevitable order "Abandon Ship" . "I wasn't much for swan dives from that height, " Moller says, "so we took off our shoes, tied them together by the laces, hung them around our necks and slid down ropes into the water. Of course our shoes floated away immediately".Moller and his companions immediately inflated their Mae West life jackets and soon found a cork float net. Before the night was over, the Destroyer Escort Ahrens plucked them from the chilly Atlantic. After a 30 day survivor's leave, Moller was back in action with a new hunter-killer group on board the USS Croatan, another CVE.