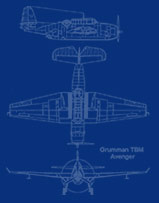 News:
June 25 & 26, 2011 – Heritage Flight Performs RI National Guard Air Show
The Foundation's TBM Avenger performed all weekend at the Quonset Airport Air Show. It was an exciting and action-filled event in celebration of the centennial of naval aviation. The air show featured the likes of the US Navy Blue Angels, the Red Bull Air Force and aerobatic helicopter, the Geico Skytypers, stunt performer Michael Goulian and many more.
The TBM Avenger roared past the crowds and gave spectators a peek at one of the most effective WWII aircraft machines that played a major role in the Allied victory. Pilot Mark Simmons demonstrated the Grumman TBM-3 Avenger's wing-fold and bomb-bay door mechanisms.
(www.Whelen.com)
and US National Aerobatic Champion, Michael Goulian,
(www.MikeGoulian.com)
for their hospitality.
June 2011 - Warbird Pinup Girls Calendar & Warbird Wines Release
"After much anticipation, we have finally released our newest classic. The "Warbird Pinup Girls" 2012 "The Bomb" calendar, featuring 12 new gorgeous pinup girls and a selection of WWII bombers. The B-17 Memphis Belle graces the cover of this year along with the beautiful Paige Carson."

Reminiscent of days gone by photographer Christian Kieffer throws back to the golden age of pinup girls and aircraft nose art, an American original. In this edition you will find some of the best examples of ready to fly WWII bombers including 4, B-25 Mitchells 3, B-17s along with many other classics. "Its hard to top yourself sometimes but I think we ramped it up a bit, I think its the "Bomb" Christian Kieffer -- Photographer/ Creator
www.WarbirdPinUps.com
. With the loss of the B-17 "Liberty Belle" this week, 6/14/11, we are proud to have worked with her as this is one of the last times she was documented until she was engulfed in flames shortly after take off, and was landed in a corn field where she burnt to the ground. We are elated to see that no one was hurt and the Liberty Belle will be remembered forever in our new calendar.
In addition to our new release we are also celebrating the new "Warbird Pinup Wines", just out from Sonoma California, this is a true milestone. We offer a beautiful array of wines in our commemorative bottles featuring our 6 exclusive pinup girl designs. On the reverse label we spotlight an American veteran and tell a brief part of their stories. Veterans are from both past and present conflicts.
A portion of the proceeds go to a miltary charity and the wines are available now at:
www.aimhighspirits.com
.
June 2011 - Heritage Flight Foundation is contacted by an Original Mechanich.
"Just a short question, is your Avenger N452HA already flying? The reason for asking is the fact that I worked on this aircraft during my study at the aeronautical school in Holland. The aircraft was even an examination project for me and I did get my A&P on it.
Over the years I have tried to follow this aircraft. The Engine was run every 3 month as part of the education package with ordanary gas from the car dealer next to the school."
Best regards,
Jaap Butter
Amsterdam area, Holland

These photographs accompanied the correspondence:
June 2011 - Heritage Flight Foundation Hires New Website Host & Manager
Heritage Flight has hired 210 USA to manage and host the online presence for their four websites and seven domains. 210 USA has offices in Connecticut, New Hampshire and Poland that manage sites ranging from simple informational portals to full blown interactive enterprise sites and ecommerce solutions.
You may
click here
to contact Jeff Sullivan at 210 USA, or call (860)256-4521 for a free consultation and quote for services.
April 2011 – TBM Avenger Photo Shoot
The TBM Avenger is photographed on the ramp at the Westerly State Airport by an Elysium Multimedia photographer for the upcoming 2012 calendar release, "The Bomb". The TBM, with pin-up model Barbie on board is the featured bomber for the month of November.

April 2009 - Enhancing Your Experience
Heritage Flight is pleased to introduce orientation flights in a 1958 Alouette II type helicopter. Enjoy the thrill of flying in the first production turbine helicopter manufactured in France. See the beautiful coast of Rhode Island and Connecticut the way few have ever experienced.

Fly with pilot Donald Krivitsky, a 20-year veteran with a vast amount of experience in event flights, medical evacuations, military missions and mountain, off-shore and jungle expeditions.
September 2008 - Acquisition of TBM Avenger Aircraft
The 1945 Grumman TBM Avenger was acquired in September of 2008 and is the most recent addition to the Foundation fleet of aircraft. The aircraft is currently being inspected and restored at American Aero Services, a world renowned warbird restoration facility. The restoration encompasses every mechanical and aesthetic component of the aircraft, including a propeller overhaul, an engine tear-out and reassembly and a full inspection. The targeted completion date is April of 2009, at which time the Grumman will be showcased at numerous educational events and special airshow appearances throughout the Northeast. The aircraft will be hangared at the Westerly State Airport in Westerly, RI and will also be available for half hour and hour flights.