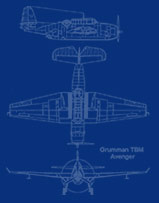 Store:
All featured items are
in stock and ready to ship
. Please contact us with your order.
Tel:
860-599-1167
Email:
heritageflight@aol.com

TBF/TBM Avenger
The Grumman Avenger, in service from 1942, meted out severe retribution on the Japanese fleet thanks to a bomb bay large enough to carry the navy's biggest torpedo. This detailed text presents scaled drawings of the plane with crews explaining their experiences in battle in the Pacific.
Barrett Tillman $15.95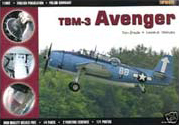 TBM-3 Avenger Walk Around Guide
Content: concise and helpful reference for modelers in form of a photographic walk around book, with 145 detailed photos and 2 painting schemes on 40 pages printed on high quality glossy paper, in B5 format (paperback). Accompanying the book is a decal sheet in 1/32, 1/48 and 1/72 scale.
Walk Around Guide $16.95
Roaring Glory Warbirds, Vol. 1: TMB Avenger (1998)
Roaring Glory Warbirds $19.95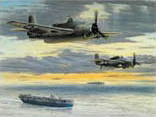 Closing the Gap Aviation Print
Closing the Gap $47.95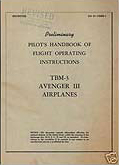 Pilots Operating Handbook TBM - 3 Avenger III
Originally printed by Grumman and the U.S. Navy late in the war, this revised Flight Operating Handbook taught pilots everything they needed to know before entering the cockpit. Classified "Restricted", the manual was declassified long ago and is here reprinted in book form. This affordable facsimile has been reformatted and color images appear in black and white. Care is taken however to preserve the integrity of the text.
TMB 3 POH $9.95

Avenger Balsa Kit
The standard Navy torpedo-bomber of WWII, the Avenger debuted at the Battle of Midway and served until 1954. Easy to build 1/38 scale balsa kit contains die-cut balsa parts, plastic cowls and canopies, decals, plastic prop, wheels, tissue and a 24 page model-building booklet. Assembly required; 16.5" wingspan when completed.
Avenger Balsa Kit $11.95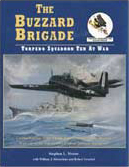 Buzzard Brigade
Carrier warfare in the Pacific from Guadalcanal to Okinawa with one of the Navy's most famous avenger squadrons. 144 photos and maps.
Buzzard Brigade $29.95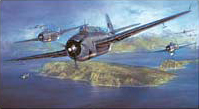 Avengers of the Philippines Print
A salute to the pilots of Air Group 51 who helped liberate the Philippines and the Americans who defended the Philippines before their capture by the Japanese.
November 14, 1944...
As smoldering enemy ships mark a trail to Manila Bay, Avengers and Hellcats of Air Group 51 overfly the Isle of Corregidor on their return to the carrier U.S.S. San Jacinto. With the misty mountains of Bataan standing as silent sentinel, Naval LT (JG) George H.W. Bush pilots his TBM in one of his last combat missions of WWII. The valor of Bush's group in the Battle of Leyte Gulf and in the strikes on Manila bay helped pave the way for MacArthur's campaign to liberate the Philippines.
Avengers of the Philippines $225.00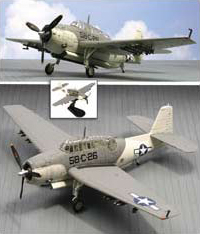 TBM Avenger Desk Model
This huge three-man bomber/torpedo bomber made its debut in the Battle of Midway, with disastrous results: only one of the six aircraft that had taken off made it back to base! Despite getting off to a bad start the Avenger soon won the affection of its crews and the respect of its adversaries, quickly becoming the standard carrier bomber of the U.S. Navy. Over 9,000 Avengers were built and many were supplied to allied nations; they were used extensively on all fronts and they inflicted heavy losses on enemy shipping, whether surface or submarine. The Avenger continued its career after the Second World War: over 500, often specialized versions, saw service in the U.S. Navy and in many other nations including Japan - the country against which the TBF had begun its career!
TBM Avenger Desk Model $169.00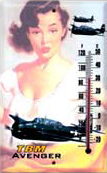 TBM Avenger Thermometer
The appeal of collectible antique thermometers and vintage thermometers is growing rapidly and for good reason...they're still affordable; they're small; they're useful; and they go with every decor.
TBM Thermometer $10.95